Windmeter – share the wind with your friends on social media
The last few weeks my facebook friends have had to put up with a lot of statuses from me. They have all looked something like this: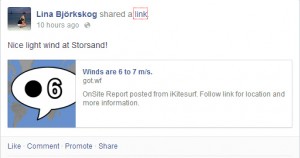 The statuses I have been posting comes from my Weather Flow Windmeter telling my facebook friends about the wind at my kitesurfing spot. The cool thing about this windmeter is that you link it togheter with your smartphone. You put the windmeter in the headphone jack and use the phone as a screen. What's nice with this (exept for measuring the wind) is that you easily can share the windstatus to your friends on social media by one simple click. It works on facebook, whats app, hangouts, twitter, sms and many more. Way easier, smarter and faster than calling or texting your friends to the kitespot or updating your facebook status. This is something that I also want my friends to use, because I also want to know where the best winds are!
You can get your own windmeter from Jesse at Helsinki Surf Shop.