Summer season started in new Flashbomb wetsuit
Since the last update the kitesurfing summer season has started even here in cold Finland. Tree sessions done so far in Lauttasaari and one also in Lohtaja. Yesterday I had a really nice kitesurfing session in Lauttasaari in steady winds. Felt really nice to land the first attempt of raley to blind – after a long time with no kitesurfing in the winter it's always difficult to land the tricks in spring again. But now the first crashes are done and so is a few of the tricks.
The water is still very cold and air temperatures vary a lot, but I have not been freezing thanks to Helsinki Surf Shop. I am very happy with my brand new and good looking Rip Curl Flashbomb E4 wetsuit. The Flashbomb wetsuit is thinner than my old winter wetsuit, just 5/3 mm, but thanks to the good quality it's as warm as my old 6/5/4. But I prefer the Flashbomb so much more – not only beacause it's nicer design – but beacause it allows more movements and flexibility. Thin and flexible, but still very warm. The old wetsuit was warm but I also felt like a michelin in it. The new Flashbomb keeps me as warm as the old one (if not warmer) even if it's thinner, but allows me to move and do tricks without the  feeling of beeing trapped in the wetsuit.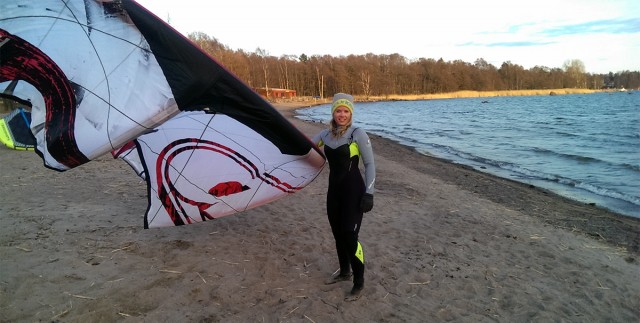 Rip Curl Flashbomb E4 is actually called the world's lightest, warmest, most flexible and fastest drying wetsuit. Rip Curl says this about the Flashbomb E4: "For the Surfer who wants the best wetsuit possible. No compromises. Constructed with the most advanced neoprene and loaded with the latest ocean technology."
I can agree with this! I am usally freezing a lot, but the Flashbomb 5/3 keeps me warm even in a water with just a few plus degrees.
Flashbomb E4 has a nice new technology which you can see when you turn the fabric inside out. The inside is made in a soft, rug-looking fabric which immediately wicks the water away.
Last week I also got one session in Crete, Greece, on a vacation trip. Crete is not the best place for kitesurfing, but I really enyojed the nice big waves! And I loved the fact that I was kitesurfing in my Rip Curl summer wetsuit. Even if I love the Flashbomb I still prefer to surf in warmer waters… But who doesn't. A few more weeks here in Finland and I can leave the gloves, shoes and hood home!